The Nurturing & Caring Environment For Your Child
We Create-Learn-Grow Everyday!!!
We specialize in meeting the unique physical, emotional and developmental needs of children. We have a great team of hard-working professionals. Our aim is to support each and every child in their everyday activities with a focus on their growth and developemnt.
Our main priority is to provide excellent service so that parents can be 100% sure their kids are well taken care of!
Our team of Early Childhood Educators is composed of the Owner, Director, Child Care Workers and a cook. All staff members have Child Development Assistant, Child Development Worker or Child Development Supervisor certification (Level 1, 11 or 111), first aid and CPR certification and at least one staff member has completed the Alberta Health Services course on safe food handling.
The staff has varied levels of experiences working with children. All Staff members are required to provide a current criminal record check and vulnerable sector search. The staff is required to participate in professional development annually to continue to learn best practices and current trends in early learning and childcare.
The required ratios must be maintained at all times. Every effort is made to ensure that the Director and at least one support/float staff are above ratio and to have substitute staff available when needed.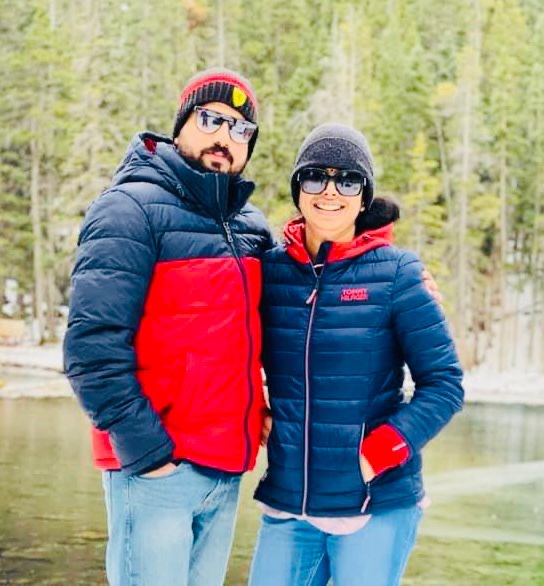 Owners Bigila and Pradeep
Hello and Welcome ! Just a little note about us. We are husband and Wife , And we have two wonderful kids , they are awesome. They like to be busy all the time. We love children, Our Daycare Provides the safe and best education centres around ,our belief of " learning through play .
We both have been operating Future Scholars daycare and OSC since 2018.
Bigila has been Working with children since 2012 then in many different capacities from a child care Educator ,Supervisor , Director and Daycare Operator.
Before Child care Profession Bigila and Pradeep studied Masters degree in Social work and it is certified child care supervisor with LEVEL 3 Certifications.
We have two Accredited Child Care centres in Edmonton ( North and South).
1. Hi5 daycare and OSC 4109 -106 Street . www.hi5daycare.ca
2 ,Future Scholars daycare and OSC 8030 , 118 Ave Ave www.futurescholars.ca
We are looking forward to meeting you and your Kiddo soon !
Through these policies, procedures and protocols, our vision is that the children in our care will have a safe and stimulating environment to learn and develop and our staff will meet their full potential in child care.
Our mission is to provide safe, quality care for children from 10 Months to 12 Years of age in a non-judgmental, open environment that promotes all aspects of the children's development while learning through
play.
Hi5 Daycare believes that a child care program should enhance each child's social, physical, intellectual, creative and emotional development. We further believe that by providing a variety of play based opportunities, through the interactions with other children and adults, the foundations for future learning will continue to grow and develop. These educational experiences will benefit children, families, and the community at large. Ultimately our aim for each child is to foster the love of learning. We have an "open door policy" for our families and encourage open communication and parent involvement.